Ok so now that you have your website ready, it's time to write your first blog post.
So what should you write about? To begin with, let's keep if very simple.
To get familiar with the WordPress editor and for people to become familiar with you, we recommend introducing yourself to your readers.
Basically, tell them who you are, what you like, and why you started your blog.
So let's get you started
To write a post, go to Posts then Add New.
Here you will arrive at the visual editor section.
Enter a title and begin writing your post.
Your title and your text can be updated or changed after your post is published. So don't stress about trying to get it perfect.
Your title can be some like "Hello and Welcome To [your site name]"
Then for your text introduce yourself and the name of you blog.
After this, we want to add an image to the blog post.
Since this is an introduction, why not make it a picture of yourself.
To add an image click on the image icon in the block below. Then upload from your computer.
Once you uploaded the picture, continue to write your first blog post.
Tell them what you are going to write about, why you are passionate about the topic, why you started the blog or anything else that you would like to communicate to your audience.
Don't be afraid to open up. Telling your story is a great way to connect with your audience and to gain trust.
Once you are happy with your post hit 'Publish'.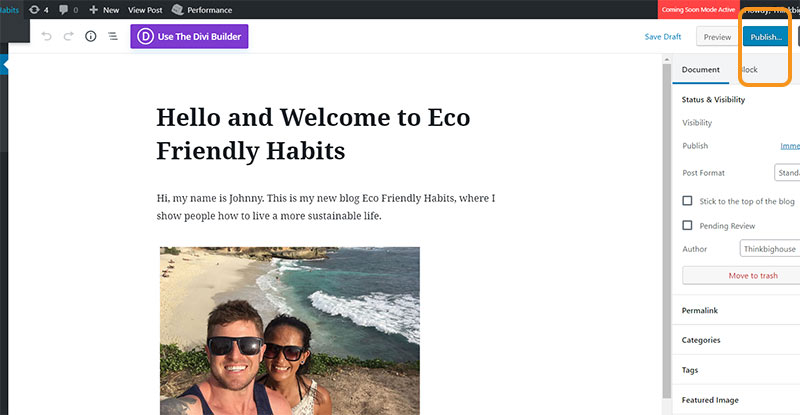 Now to view your new post simply click on 'view post' at the top menu bar.
There you have it! It's that simple.
See how easy it is to create your very own blog and published your first article on the web!