There are many ways to make money from your blog; advertising, e-books, courses, affiliate marketing, sponsored posts, membership areas and the list goes on.
Eventually, you may want to monetise your blog by taking advantage of as many of these money-making avenues as possible. However, when starting out as a beginner, we believe there's one method that stands out best – that's affiliate marketing.
What is affiliate marketing?
Well, imagine earning money every time you recommend a product to someone – your favourite shoes, the travel site you used to book a hotel, a new app you downloaded…
That's affiliate marketing and it's one of the best ways to make money with a blog.
To put it simply, as a blogger you promote and sell products and earn commission in exchange.
It can be very lucrative – with many bloggers making in excess of six figures per month.
The reason affiliate marketing is great for people starting out is that
You don't need to create and market your own products or services. There's no stock inventory, no having to deal with customers or any of the other stresses required when selling your own product. All you need to do is recommend the product. Everything else is taken care of.
It's very easy to implement on your blog. all you need to do is sign up to an affiliate program and share a link with your blog readers. When they buy, you start making money!
You don't need a whole of traffic to earn income. Other monetisation methods like advertising or sponsored posts require large amounts of traffic. With affiliate marketing, you only need one person to click and purchase to make income.
So let's get down to business and show you how to make money with affiliate marketing.
How to get started with affiliate marketing
So now that you know how it all works, how do you get started selling products online for companies? Let's get down to the nitty-gritty.
1. Find affiliate programs
First things first, you need to find affiliate opportunities that are suitable for you.
There are two ways that you can partner with affiliates.
You can join an affiliate network. This one single platform where several businesses (merchants) offer affiliate programs. You simply sign up to the network and choose the programs that are most suited to you.
Sign up to individual affiliate programs. You can join a company's affiliate program directly. So if you like a particular product, sign up to their program so you can recommend it to your audience as well.
You can make use of both types of programs to sell products and earn a commission from them.
When you sign up to an affiliate program for a product, you will receive a special affiliate link that contains a unique tracking code.
Ever time you recommend a product on your site, you can use that affiliate link to direct a person to the product's website. When a reader makes a purchase, you earn a commission as the affiliate link contains tracking, and sales are attributed to you.
Popular affiliate programs
There are hundreds of programs that you can join and get started with affiliate marketing for bloggers.
Let's take a look at some of the most popular and highly recommended affiliate networks:
To find companies and affiliate programs will require you to make use of Google and do your own research. The best way to find affiliate programs is by searching using your niche, product or relevant keywords followed by the words 'affiliate program'. See examples below:
Gardening + affiliate program (niche)
Gardening tools + affiliate program (product)
Best gardening tools + affiliate
You could also search for affiliate programs for specific products and services by doing a simple Google search.
2. Apply to programs
Once you have found a few good programs that are relevant to your blog and audience, go on and join them.
With most affiliate programs, the application process is quite simple and is only necessary to ensure that you have an audience that's relevant to the products and services that they feature.
Most of them won't be interested in how much traffic you currently have; but more about the kind of content you offer and your blogging frequency.
It's therefore, very important that you give a great deal of thought to the kind of blog that you want to start so that you're able to provide your audience with high-quality content on a regular basis. Here are 8 things you should consider before you start a blog.
3. Start promoting your offers (without selling your soul)
The one thing that you don't want to be known for is the sleazy blogger who only promotes products on their blog and fills their readers' emails with junk ads and spam.
Even though making money is the main goal here, you still want to offer value to your audience. So don't get carried by the money and forget that your audience will only stay loyal to you if you continue offering them valuable information.
Keep in mind that the only way that you are going to succeed with blogging and affiliate marketing is through high-quality traffic. This can only happen when you build trust with your audience. People will only trust you if they believe that you value them.
So with that said, let's check out a few ways you can promote links and make money with affiliate products and services – in a manner that is both valuable to you and your audience.
Research has shown that 70% of customers will check out online reviews before they decide to buy something. 72% of these customers will take action if the review is a positive one.
That's just how powerful online reviews are!
If you decide to promote products and services that you have personally used, then writing reviews is a great way to get people to buy them.
The deal with reviews is to be as honest as possible even if you're getting paid. Remember, your audience trusts and believes your opinion.
So if you say something is great and then they have a below par experience they will not trust you in future. Nothing is 100% great so be honest in your reviews.
When writing reviews use your personal stories to describe your experience with the product and why you recommend it. Remember to include your affiliate link at the top, within your blog post and below the page.
Example from Cnet.com: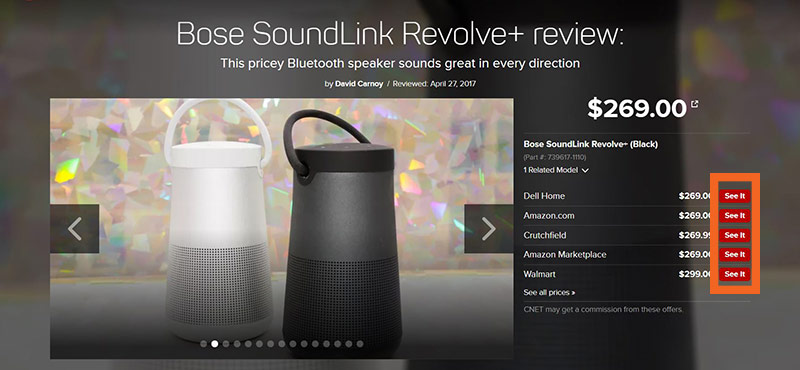 Popular technology blog Cnet writes article a reviews the latest tech gear and gadgets. In the above example they give a thorough review of the Bose Sound Link Revolve. Included are prices from all the top online retailers and affiliate links in the form of a 'see it' button.
This is another great way of promoting products and services.
Product comparisons are almost similar to product reviews. However, comparisons feature two or more similar products/services instead of one.
The beauty of comparisons is that they help customers who are confused about which particular product to pick when presented with several options.
Again, be as honest as possible and don't be tempted to favour one product over another. Provide your audience with all the necessary information and let them make the decision on their own.
Example from TopTenReviews.com: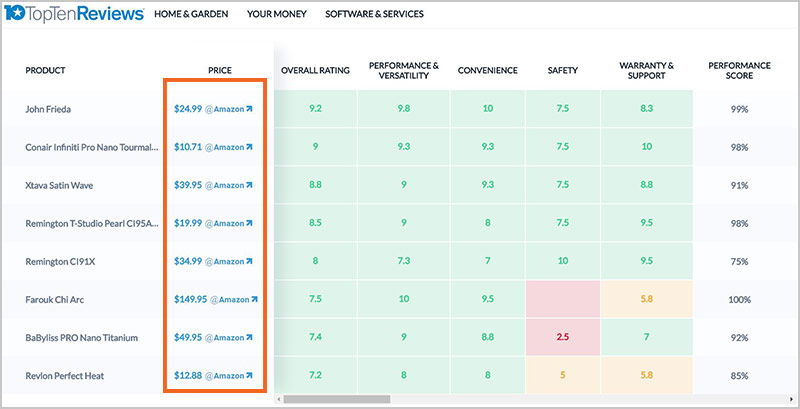 TopTenReviews.com are the kings of product comparisons. These guys do it very well. As you can see they take one particular product category, in this case, curling irons, and compare and rate the 'top ten'.
Tutorials are some of the easiest and effective ways to make money through affiliate marketing for bloggers.
They may take more time to prepare compared to reviews and product comparisons. However, they have higher power to drive more sales.
Tutorials are step by step posts or videos that show people how to do or use something. For instance, if you're promoting a gardening tool, you can create a video or blog post showing your audience how to use it effectively.
At the end of your video or article, you can let your visitors know exactly where they can purchase the gardening tools.
Example from TheBeautyDepartment.com: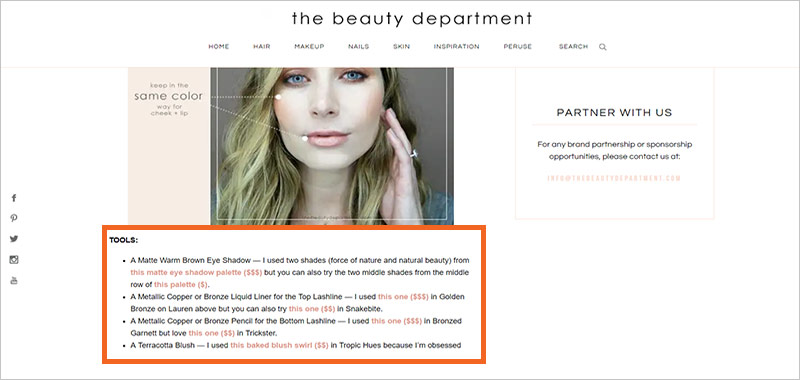 In this tutorial by The Beauty Department, readers are shown step by step how to achieve a particular look. Underneath the tutorial is a list of the products used, with affiliate links to the websites where these products can be purchased.
This is probably the most ignored affiliate marketing tactic out there.
What most bloggers don't know is that a resource page is one of the most visited pages on a blog or website. This is because people are always looking for resources that others are already using or highly recommend.
If for instance, you're promoting books or online courses, you can have a resource page featuring your top most recommended books or courses. So instead of a reader having to look for individual posts, they can go straight to your resource page.
Example from NomadicMatt.com: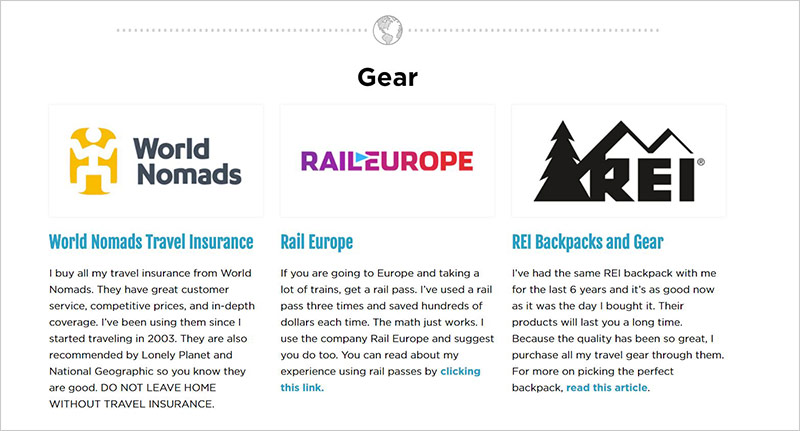 Popular travel blogger Nomadic Matt has created a resource page that lists all the travel-related products and services he uses. This includes flight bookings, hotel reservations, travel insurance, travel gear/apparel & tour companies. All of these recommendations can be monetised by signing up to their affiliate programs and using affiliate links.
Sharing affiliate links in your blog posts
This is by far the most subtle way of promoting products and services.
With this tactic, you don't really talk about a specific product or service but talk about a topic in general and then share links to products and services that you're promoting that are related to whatever you're discussing.
In most blogs, you will see such links under 'see more' 'related product' etc.
Sometimes you can even mention a specific related product or service in passing and link it to your affiliate link.
Example from Greatist: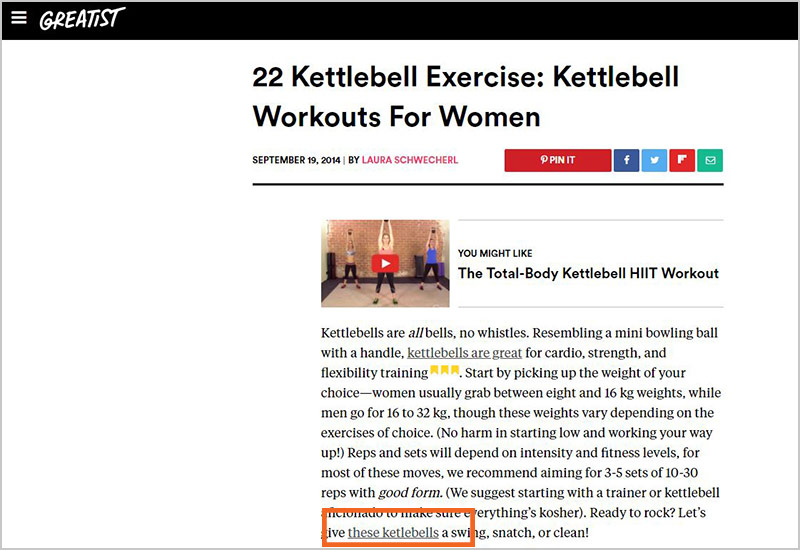 In this kettlebell workout, Greatist.com uses a contextual affiliate link 'these kettlebells' to direct users to an external website where the product can be purchased.
Whichever way you choose to promote your links, make sure you add an appropriate disclaimer to your blog post. You should always make your readers aware that they may be clicking on affiliate links within your post